The Department of Anesthesiology cares for patients undergoing surgery and chronic pain-related procedures and those requiring critical care. From sedating patients for minor procedures and ensuring patient comfort during diagnostic procedures such as colonoscopy and endoscopy, to maintaining optimal levels of anesthetic depth during surgery and pain management, anesthesiologists perform essential services across a wide range of medical procedures and conditions. BMC's specialists are leaders in their fields and the team has expertise in such specialized fields as critical care, cardiac, pediatric, and obstetric anesthesia.
Anesthesiology Services
In addition to providing sedation services for patients undergoing procedures and surgeries, BMC's Anesthesia Pain Clinic manages chronic pain by providing the following types of care, all under fluoroscopic guidance.
Sympathetic Nerve Blocks
Stellate Nerve Block
Celiac Plexus Block
Lumbar Sympathetic Plexus Block
Superior Hypogastric Plexus Block
Ganglion Impar Block
Peripheral Nerve Blocks
Lliohypogastric
Ilioingunial
Genitofemoral
Intercostal
Occipital
Supratrochlear
Supraorbital
Pudendal
---
Radiofrequency Ablation/Neurolysis/Denervation
---
Epidural Injections
Interlaminar Epidural Steroid Injection
Transforaminal Epidural Steroid Injection
Epidural Blood Patch
Facet Joint Injections
Medial Branch Blocks
Intrarticular Facet Joint Injection
---
Joint Injections
Shoulder
Spinal Stimulation
Trials
---
Selective Nerve Root Injections
Bursa Injections
Trigger point Injections
Botox Injections
---
Pulsed Radiofrequency Interventions
Intervertebral Procedures
Intravenous Medication Diagnostic Infusion
---
To schedule an appointment in the Anesthesia Pain Clinic, please call 617.638.6950.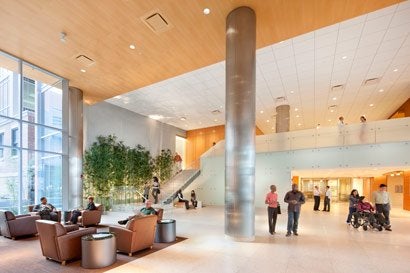 Address
725 Albany Street
Boston, MA 02118S
Shapiro Ambulatory Care Center
7th Foor, Suite 7C
Hours
Monday- Friday - 6:00 AM - 4:30 PM