Contact Volunteer Services
Email: [email protected]
Main Phone: 617.414.5122
Volunteer Services Department
Boston Medical Center
85 East Concord Street
Boston, MA 02118
The Volunteer Services Department at BMC is dedicated to helping BMC fulfill its mission of providing consistently excellent and accessible health services to all in need of care, regardless of status or ability to pay. Our volunteers continue to grow and support staff, patients and families.
Volunteers assist the BMC community with services that support the hospital's mission while providing an enriching experience for the volunteer.
Volunteer Services' main goal is to integrate and assimilate volunteers throughout the hospital where they have the greatest impact to BMC's patients and staff. In doing this, Volunteer Services is also devoted to providing a meaningful experience for the volunteer that aligns with the hospital's mission and the volunteer's goals and desires to give back to the community.
---
---
Program of the Month
Pediatric ENT Playspace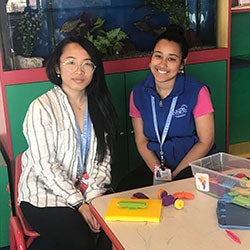 The Department of Pediatric Otolaryngology (otherwise known as Ear, Nose, and Throat, or ENT) provides care for patients with problems involving the ears, sinuses, oral cavity, airway, nose, throat, and neck including sinus conditions, neck masses, allergy, and snoring. Child Life Specialists leverage a child's natural inclination to play in order to facilitate emotional expression and create a sense of normalcy in an unfamiliar environment.
Volunteers in this role must be at least 16 years old and have previous experience with children. The volunteer provides a warm, cheerful welcome to all patients entering and departing the clinic and may help to research illnesses, diseases and appropriate resources for families. Volunteers assist the Child Life Specialist by engaging pediatric patients through play in the outpatient waiting area.
Shifts
Monday-Friday 9:00 AM–1:00 PM and 1:00 PM–4:00 PM.
If interested in this role, please complete an application and specify Pediatric ENT Playspace on your application!
Volunteer of the Month: Richa Geetey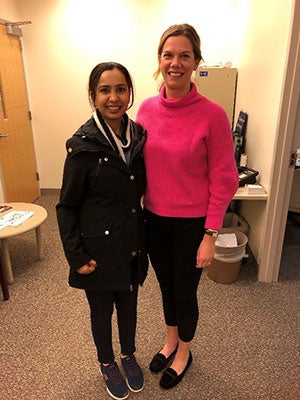 Richa Greeley (left) and Macy Reed,
Associate Director, Volunteer Services
What is your volunteer role at BMC? How did you decide on this role?
A: My role in BMC is "Patient greeter" in OBGYN clinic. In addition to it, I perform various tasks guided by my supervisor. I decided on this role because OBGYN clinic was undergoing a phase of renovation when I joined. Patients needed to be guided to the new set up. I found this as a nice opportunity to help the pregnant women and new parents in their happy phase of life. This also helped the staff to keep the workflow smooth.
What do you like most about volunteering at BMC?
A: BMC is an amiable organization. The staff is cordial and friendly. Everyone is ready to help and guide me in my work.
What is the biggest takeaway from your experience so far? Can you give an example?
A: Satisfaction is my biggest takeaway. My best experience of Satisfaction as my takeaway from volunteering must be the time when an old lady came to me with her pregnant daughter and was not sure how to proceed to the check in counters as they had no appointment. They needed to be checked in as walk in patient. Also both the women were not in the best of their health. She asked me about the location and the process. I requested them to sit comfortably, gave some water and snacks. Meanwhile I asked one of the ASR to help them with the check in. It was done quickly by the staff. The relief on their faces was evident. I was happy to help with satisfaction to be able to make at least one patient content and delighted.
How has volunteering at BMC changed your perception of hospitals or healthcare?
A: This experience made me realize the amount of patience one has to have to serve the people in need. It is important to be calm and polite and yet work in discipline when a patient entrusts himself/herself to a team of strangers. Hospital is mostly a sad place with stressed people hence the healthcare staff needs to be extra kind. My respect for them has grown multi-folds.
What would you want someone to know who is thinking about volunteering at BMC?
A: My advice would be — don't think twice, just go for it. You will receive more than you give.
---
---