Junior Summer Volunteer Program
Boston Medical Center's Summer Volunteer Program application is now open for 2020.
The Summer Volunteer Program is a great opportunity for volunteers entering their junior or senior year of high school to gain exposure to the healthcare field. In their role at BMC, volunteers will interact with patients and assist with patient experience initiatives.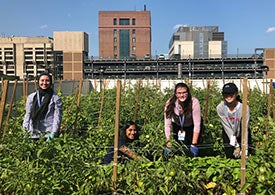 Strong applicants for the program will be reliable, committed and eager to learn about the hospital and healthcare setting. Must have a positive attitude and be open to learning from new experiences.
Summer volunteers must be available for a minimum of 8 weeks between June 29th and August 28th. Volunteers are required to commit to the same three hour shift every week.
As a part of the program volunteers must attend a set-number of speaker series which will showcase different careers in the hospital and allow networking with healthcare professionals.
All inquiries about the Summer Program and correspondence with Volunteer Services in regards to application status should be made by the candidate themselves.
The deadline to apply for the Summer Volunteer Program is Friday, May 1, 2020
Application Process
Please note:
You must interview with Volunteer Services to be considered for the Summer Volunteer Program.
Group interviews will be conducted in June at Boston Medical Center. The interview will be with fellow summer applicants and an opportunity for us to learn more about you and your interest in volunteering. During the group interview you will be required to confirm your summer availability and commitment to the program.
Please note that we cannot guarantee a placement for all who apply. Preference will be given to students who live in Boston and the Greater Boston Area.
All volunteers must receive health clearance from the Working Well Clinic and attend Summer Volunteer Orientation.
Volunteer orientation will last a full day and review hospital policies and procedures. We will review the summer schedule and reiterate requirements for all summer volunteer participants.
Orientation will take place on Tuesday, June 30, 2020. You must be able to attend orientation to participate in the program.
Opportunities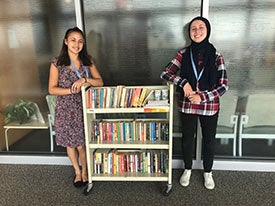 Our Summer Program Volunteers assist in the following roles:
Outpatient Entertainment Cart
Preventative Food Pantry
Pediatric Playspace: Primary Care
Pediatric Playspace: ENT Clinic
Pediatrics: Patient Greeter
Geriatrics: Patient Greeter
BMC Ambassador
FAQ
Can I participate in the Summer Program if I am not entering my junior or senior year of high school?
The Summer Program is designed for high school volunteers entering their junior or senior year. We offer summer volunteering to anyone entering college and above. We ask all volunteers to commit to eight weeks of volunteering in the summer.
Can I still participate in the program if I am going to be away for part of the summer?
Yes, as long as you can commit to a minimum of eight weeks between June 29th and August 28th. If a vacation or trip is planned you must note on your application the dates and times you will be away.
I have a particular area of interest that I do not see listed above as a volunteer role. Can I volunteer somewhere else?
All summer program volunteers assist in outpatient areas only. Given the duration of the program and age requirements of the positions, participants in the summer program will be placed in the roles listed above. While you can note on your application an interest in a particular role, volunteer placement is based on the needs of the hospital.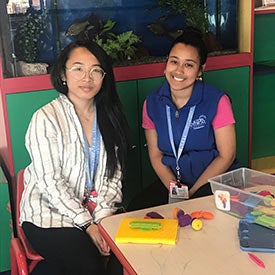 What times are volunteer shifts?
Volunteer shifts are Monday through Friday from 9am-12pm or 1pm-4pm. Volunteers have the same 3 hour shift week to week. We know afternoon availability is often preferred and encourage you to indicate all possible afternoon and/or morning times you are available on a weekly basis in your application.
At the end of the program, do I receive documentation of my volunteer hours?
After the completion of the program, Volunteer Services mails home a letter that includes your hours as well as a description of the role you volunteer in. If other documentation is needed for school or other programs, let us know and we can provide this information. In addition, we are able to provide letters of recommendation upon request.
What is the easiest way to get to Boston Medical Center?
Volunteers may park in the 710 Albany Street garage. If coming by public transportation the following bus lines make stops near BMC : 1, 8, 10, 47, CT1, CT3, SL4 & SL5. For more information on getting to BMC please visit the directions and transportation page, found here.
I will need to have someone drive me to my volunteer shift at BMC. Will this present an issue?
We ask all students about their mode of transportation to BMC. If the student will be relying on someone else for transportation, we will need commitment confirmation from both parties in order for the student to participate in the summer program. It is the responsibility of the student to ensure they are on time to every shift.